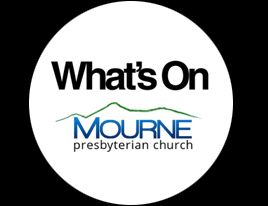 What's On At Mourne?
September 2016
SUNDAY SERVICES
4th September
9.45am   Live Broadcast on BBC Radio Ulster
7.00pm    Rev W.T. Bingham
11th September 
11.30am   Rev W.T. Bingham
7.00pm    Rev A.D. Mullan
18th September 
11.30am   Rev  A.D. Mullan
7.00pm   Rev A.D. Mullan
25th September    
11.30am    Rev  W.T. Bingham
3.30pm   Brackney Hall
7.00pm    Rev W.T. Bingham
Prayer Meetings at 5.45pm and 6.15pm.
Missionary Offering: last Sunday of the month
SUNDAY SCHOOL AND BIBLE CLASSES
All Classes recommence on Sunday 11th September. New members welcome
Infant Sunday School – 10.30am –Infant Room
Junior Sunday School –  10.30am- Minor Hall
Senior Sunday School-  10.30am- Lecture Hall
Junior and Senior Bible Classes – 10.45am
BAPTISMS
Anyone wishing to have a child baptised in October should speak to Rev Bingham.  Baptisms in October will take place on Sunday 2nd October at  11.30am.
CAM – Coffee At Mourne
In the Youth centre before church on Sunday mornings from 11th September.
MID WEEK  MEETINGS
Thursdays @  8.00pm
Thurs 1st         Bible Study and Prayer Meeting
Thurs 8th         Bible Study and Prayer Meeting
Thurs 15th       Jonny Forsythe, Mexico City.
Thurs 22nd       Bible Study and Prayer Meeting.
Thurs 29th       Bible Study and Prayer Meeting
PRESBYTERIAN WOMEN
Monday 19th September at 8.00pm.  P.W. Mini Rally in Rostrevor Presbyterian Church Hall. Speakers: Keith Preston and Rev David Temple.
All ladies are very welcome to come along and enjoy the fellowship.
RAINBOWS – MOTHER AND TODDLER GROUP
Each Wednesday from 14th  September from 9.30 – 11.30 in the Church Hall. For babies and young children up to 4 years old. Mums, Dads, Grandparents welcome.
CHOIR PRACTICE
In the Church on Wednesday evenings at 8.00pm.
BADMINTON CLUB
The club will meet on Wednesday evenings at 9.30pm
THE GIRLS' BRIGADE
The G.B. will recommence on Tuesday 13th September.
Tuesday  5.30-7.00pm     The Explorers – Nursery to P4
Tuesday 7.15 – 9.00pm    Juniors, Seniors and Brigaders – P5 and over
Uniforms can be purchased at www.gbnishop.co.uk or at their shop at Junction 1, Antrim. You may also try New Beginnings Charity shop for good quality 2nd hand.
THE BOYS' BRIGADE
The B.B. will recommence on Wednesday 14th September.
Wednesday   6.00 – 7.15pm  Mourne Robins and Anchor Boys
Wednesday   7.30 – 9.00pm  Junior Section
Wednesday   7.30 – 9.30pm  Company Section.
YOUTH FELLOWSHIP
The Youth Fellowships will recommence on Sunday 25th September at 8.30pm. There will be a Youth week holiday in England from 3rd to 7th July 2017.
SATURDAY NIGHT CLUB
Every Saturday from 24th September, 7.30 – 9.30 in the Youth Centre. There will be a BBQ for all who come along.
YOUTH LEADERS AND YOUTH COUNCIL MEETING
Weddnesday 7th September at 7.30pm. This will be an opportunity for prayer, fellowship and supper at the beginning of a new session.
MOURNE P.C. WALKING CLUB
A programme giving full details of all walks is available in the porches, please take one and come along. Walks in     September will take place on each Monday and Saturday 17th.  Walks are suitable for all ages. Donations towards Livingstonia Partnership. Everyone welcome
THE LADIES SUPPORT GROUP
Meetings for September will be held each Wednesday in Kilkeel Baptist Church Hall at 10.30am.
SERVICE IN THE ORANGE HALL
There will be no service this month.
FISHERMEN'S MISSION COFFEE MORNING
Saturday 3rd September from 10am to 12.30pm in the Church Hall. Gifts of cakes and Bric-a-bac would be greatly appreciated.
COFFEE MORNING TO SUPPORT THE FORSYTHE FAMILY
IN MEXICO CITY
Saturday 17th September in the Church Hall from 10.00am to 12.00 noon. Gifts of cakes and pastries would be much appreciated.
NEWRY PRESBYTERY RULING ELDERS FELLOWSHIP
Monday 26th September in Sandy's Street, Newry at 8.00pm
O.M.F. PRAYER MEETING
Monday 26th September in the Upper Room at 8.00pm.
LEAFLET DROP
We would value your help to distribute over 2500 leaflets throughout the town and district highlighting the events and activities of our congregation. You will not be asked to knock doors – just deliver the leaflets. We hope to do this on Tuesday 30th August and you should meet in the Minor Hall at any or all of these times, whatever suits you, 11,00am, 2.00pm and 7.00pm. You will be given an area to do when you arrive. Please come along and serve the Lord is this way – many hands make light work.
KIRK SESSION
The Kirk Session will meet on Tuesday 27th September in the Church Office at 8.00pm.
FOR YOUR DIARY
HARVEST THANKSGIVING SERVICES
Sunday 9th  October at 11.30am and 7.00pm.
Brackney Harvest 30th Oct  at 3.30pm and 31st  October at 8.00pm.
Please come along and help decorate the church on Saturday 8th October from 2.00pm. Gifts of flowers and vegetables would be greatly appreciated as would your help.
HARVEST FAYRE
The annual Harvest Fayre to raise support for missions will be held on Wednesday 26th October from 10.00am to 3.00pm. Your help and support would be most welcome and appreciated.
WELCOME
You are very welcome to Mourne Presbyterian Church. If you are interested in becoming a member of the congregation please contact Rev Bingham, Tel:
41762264. For more information on the church visit www.mournepc.org