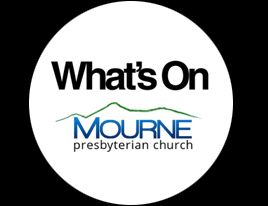 What's On At Mourne?
October 2017
SUNDAY SERVICES
1st        11.30am    Rev W.T. Bingham
             7.00pm    Rev A.D. Mullan
8th      11.30am     Harvest Thanksgiving – Rev A.D. Mullan
             7.00pm    Harvest Thanksgiving – Rev John Mullan
15th      11.30am   Rev  A.D. Mullan
              7.00pm   Rev  A.D. Mullan
22nd     11.30am   Rev W.T. Bingham
              6.30pm   GB/BB Enrolment
29th       11.30am   Rev A.D. Mullan
               3.30pm   Brackney Harvest
               7.00pm   Rev W.T. Bingham
                                       Prayer Meetings 5.45pm and 6.15pm.
                             Missionary Offering: last Sunday of the month
SUNDAY SCHOOL AND BIBLE CLASSES
Infant Sunday School – 10.30am –Infant Room
Junior Sunday School –  10.30am- Minor Hall
Senior Sunday School-  10.30am- Lecture Hall
Junior and Senior Bible Classes – 10.45am
CAM – Coffee At Mourne
In the Youth centre before church on Sunday mornings
SUNDAY KNIGHT KIDS
Sunday 29th  October at 7.15pm. Rota available in the porches.
BAPTISMS
Sunday 26th November at 11.30am. Anyone wishing to discuss baptism should contact Rev Bingham, 41762264.
YOUTH FELLOWSHIP
Each Sunday evening at 8.15pm.
MID WEEK  MEETINGS
Thursdays @  8.00pm
Thurs 5th        Avril Edgar and Syrian Refugee Ministry
Thurs 12th      Bible Study and Prayer Meeting
Thurs 19th      European Missionary Fellowship – Pastor from Belarus
Thurs 27th      Professor  Marty Cowan – Luther 500
THE GIRLS' BRIGADE
Tuesday  5.30-7.00pm     The Explorers
Tuesday 7.15 – 9.00pm    Juniors, Seniors and Brigaders
Sunday 22nd October 6.30pm – Enrolment Service
THE BOYS' BRIGADE
Wednesday   6.00 – 7.15pm  Mourne Robins and Anchor Boys
Wednesday   7.30 – 9.00pm  Junior Section
Wednesday   7.30 – 9.30pm  Company Section.
Sunday 22nd October 6.30pm – Enrolment Service
PRESBYTERIAN WOMEN
Mon 2nd     8.00pm  Phyllis Annett "The Craft Loft"
Mon 16th    8.00pm  Colin Davis  "Spud Bears"
Saturday 7th October 2.00pm – Decorating for The Harvest. Gifts of flowers, produce and your help would be greatly appreciated.
Wed 25th October –  The Harvest Fayre
All ladies are very welcome to come along and enjoy the fellowship.
THE MENS' FELLOWSHIP
Friday 19th and Friday 27th October.
RAINBOWS – MOTHER AND TODDLER GROUP
Each Wednesday from 9.30 – 11.30 in the Church Hall. For babies and young children up to 4 years old. Mums, Dads, Grandparents welcome. There will be no meeting on 25th October.
CHOIR PRACTICE
In the Church on Wednesday evenings at 8.00pm.
BADMINTON CLUB
The club will meet on Wednesday evenings at 9.30pm
O.M.F. PRAYER MEETING
Monday 23rd October in the Upper Room at 8.00pm.
SATURDAY NIGHT CLUB
Every Saturday from 7th October  7.30pm  – 9.30pm in the Youth Centre.
MOURNE P.C. WALKING CLUB
A programme giving full details of all walks is available in the porches, please take one and come along. Walks in October will take place on Monday 9th, 23rd, 30th   and Saturday 14th. Everyone welcome, come along and bring a friend.
THE LADIES SUPPORT GROUP
Meetings for October will be held each Wednesday in Kilkeel Presbyterian Church Hall at 10.30am. No meeting on 25th October.
ENGLISH CLASSES
English classes for foreign national continue in our church hall on Friday evening at 7.00pm. Please invite or bring along anyone you know who would benefit from the classes and fellowship.
HEALTH AND SAFETY TRAINING
A representative from each organisation is requested to attend a certificate training evening in Fire Safety in the Youth Centre or Monday 23rd October from 7.30pm to 9.30pm. Please contact Edward Forsythe for further details.
SERVICE IN THE ORANGE HALL
Next service is Sunday 1st   October at 8.30pm.
DUBLIN CHRISTIAN MISSION
Appeal for coats, hoodies, jeans, runners, sleeping bags, quilts, blankets and toiletries. Please give to Rosemary Edgar. Your support is much appreciated.
POINTS FOR PRAYER
Prayer booklets available in the porches.
HARVEST THANKSGIVING SERVICES
Sunday 8th  October at 11.30am and 7.00pm.
Brackney Harvest Sunday  29th  at 3.30pm and Monday  30th  October at 8.00pm.
Please come along and help decorate the church on Saturday 7th October from 2.00pm. Gifts of flowers and vegetables would be greatly appreciated as would your help.
HARVEST FAYRE
The annual Harvest Fayre to raise support for missions will be held on Wednesday 25th October from 10.00am to 3.00pm. Your help and support would be most welcome and appreciated.
Help to set up the hall on Tuesday 24th October at 7.00pm would be much appreciated.
FOR YOUR DIARY
Friday 3rd November 8.00pm    Pre Communion Service
Sunday 5th November 11.30am    The Lord's Supper
Saturday 9th December – Sunday School Christmas Parties
Sunday 17th December –  7.00pm  Carol Service
Christmas Eve Services –  11.30am, 7.00pm and 11.30pm
WELCOME
You are very welcome to Mourne Presbyterian Church. If you are interested in becoming a member of the congregation please contact Rev Bingham, Tel:
41762264. For more information on the church visit www.mournepc.org