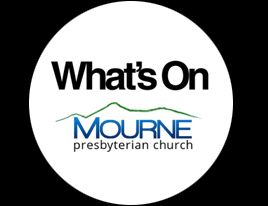 What's On At Mourne?
MAY 2017
SUNDAY SERVICES
7th        11.30am  The Lord's Supper – Rev W.T. Bingham
7.00pm   Rev A.D.Mullan
14th      11.30am  Rev A.D. Mullan
7.00pm   Rev W.T. Bingham
21st     11.30am  Rev W.T. Bingham
7.00pm  Rev A.D. Mullan
28th      11.30am  Rev A.D. Mullan
7.00pm  Rev W.T. Bingham
Prayer Meetings 5.45 and  6.15pm.
Missionary Offering: last Sunday of the month
SUNDAY SCHOOL AND BIBLE CLASSES
Infant Sunday School – 10.30am –Infant Room
Junior Sunday School –  10.30am- Minor Hall
Senior Sunday School-  10.30am- Lecture Hall
Junior and Senior Bible Classes – 10.45am
BAPTISMS
Anyone wishing to have a child baptised speak to Rev Bingham.  The next baptisms will take place on Sunday 4th June at  11.30am.
CAM – Coffee At Mourne
In the Youth centre before church on Sunday mornings.
YOUTH FELLOWSHIP- Sunday Evenings 8.15pm
Junior YF  in The Minor Hall,
Young Adults in The Infant Room
Senior Youth Fellowship in The Youth Centre.
Youth Week 2017 will be from Mon 3rd –  Fri 7th July.
MID WEEK  MEETINGS
Thursdays @  8.00pm
Thursday 11th May  –      Prison Fellowship
Thursday 18th May –       Billy Swann – Dublin – 2ndSight
Thursday 25th  May –       Bible Study and Prayer Meeting
RAINBOWS – MOTHER AND TODDLER GROUP
Each Wednesday from 9.30am – 11.30am in the Church Hall. For babies and young children up to 4 years old. All parents welcome.
CHOIR PRACTICE
In the Church on Wednesday evenings at 8.00pm.
BADMINTON CLUB
The club will meet on Wednesday evenings at 9.30pm
THE YOUTH COUNCIL
The Youth Council will meet in the Upper Room on Thursday 18th May at 9.15pm.
PRAYER MEETING
The joint prayer meeting will be held on Friday 26th May at 7.00am in Kilkeel Presbyterian Church Hall.
THE CONGREGATIONAL COMMITTEE
The Committee will meet on Tuesday 23rd May at 8.00pm in the Church Office.
MOURNE P.C. WALKING CLUB
Programmes containing details of the May walks are available in the porches. Walks in May take place every Monday evening and Saturday 13th. Walks suitable for everyone. Donations towards the Livingstonia Project gratefully received. Everyone welcome.
SERVICE IN THE ORANGE HALL
Sunday 7th May at 8.30pm. Speaker – Gary Bingham.
OMF PRAYER MEETING
Monday 22nd   May at 8.00pm in The Upper Room.
NEWRY PRESBYTERY RULING ELDERS FELLOWSHIP
ANNUAL DINNER
Monday 22nd May in Sandy's Street Presbyterian Church Hall at 7.45pm. Order forms available in the main vestibule.
NEWRY HOSPICE COFFEE MORNING AND CAKE SALE
Saturday 27th May from 10.00am in the Church Hall. Everyone welcome.
NEW BEGINNINGS SUPPER
STEW NIGHT & DESSERTS
(Hot Dogs for Children)
Also launching the 2nd Voices of Africa ChoirTour
Friday 19th May 2017 at 6.00 pm
In Mourne Presbyterian Church Hall
No Ticket Necessary. Donations gratefully received at Door.
Everyone Welcome
FOR YOUR DIARY
Sunday 11th  June – Children's Day Services – 11.30am and 6.30pm
Sunday 18th June  11.30am – Commissioning Service for Summer Teams – Special Speaker- Bob McAllister – Former Missionary to The Congo.
Anyone involved in any outreach team or youth week leader should sign their name on the sheet in the vestibule by Sunday 11th June.
.
FOR FURTHER DETAILS AND UPDATES PLEASE VISIT
www.mournepc.org