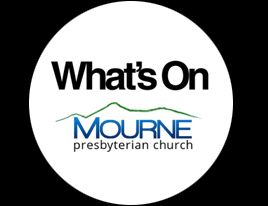 What's On At Mourne?
MARCH 2016
SUNDAY SERVICES
6th
11.30am   Rev A.D. Mullan
7.00pm   P.W. Service –Mr Keith Preston
13th
11.30am   Rev .W.T. Bingham
7.00pm   Rev A.D. Mullan
20th    
11.30am  Palm Sunday Service – Rev A.D. Mullan
3.30pm Brackney Hall
7.00pm  Rev E. McKenzie (Rostrevor and Warrenpoint)
27th
11.30am  Easter Sunday Service – Rev W.T. Bingham
7.00pm  Rev A.D. Mullan
Prayer Meetings 6.15pm.
Missionary Offering: last Sunday of the month
SUNDAY SCHOOL AND BIBLE CLASSES
Infant Sunday School – 10.30am –Infant Room
Junior Sunday School –  10.30am- Minor Hall
Senior Sunday School-  10.30am- Lecture Hall
Junior and Senior Bible Classes – 10.45am
BAPTISMS
Anyone wishing to have a child baptised in March please speak to Rev Mullan (41762659).  The next baptisms will take place on Sunday 13th  March at  11.30am.
CAM – Coffee At Mourne
In the Youth centre before church on Sunday mornings..
SUNDAY KNIGHT KIDS
Sunday 20th March at 7.15pm. Rota available in the porches.
YOUTH FELLOWSHIP- Sunday Evenings 8.15pm
Junior YF  in The Minor Hall,
Young Adults in The Infant Room
Senior Youth Fellowship in The Youth Centre.
YOUTH COUNCIL
There will be a meeting of the Youth Council after mid week on Thursday 24th March in the Upper Room.
MID WEEK  MEETINGS
Thursdays @  8.00pm
Thursday 3rd March – Bible Study and Prayer Meeting – Report by Amanda Hanna on the recent team visit to Adam and Lynn in  Morocco
Thursday 10th March-   Andrew and Philip – New Beginnings
Thursday 17th March –   Alan Dundas –  Coaching for Christ.
Thursday 24th March –   Bible Study and Prayer Meeting
THE PRESBYTERIAN WOMEN'S GROUP – 8.00pm
Monday 7th March – Elizabeth Conn will speak on "The Titanic".
Monday 16th March  – Members Night.
The PW Day Trip will take place on Saturday 18th June. Details available at the nest P.W. Meeting. Visit includes Tour of Crumlin Road Gaol and shopping at Forestside. Coffee and Dobbies and evening meal at Rockmount.
THE MENS FELLOWSHIP
11th March in the Church Office at 8.00pm.
RAINBOWS – MOTHER AND TODDLER GROUP
Each Wednesday from 9.30am – 11.30am in the Church Hall. For babies and young children up to 4 years old. All parents welcome. No meeting on 23rd and  30th March.
CHOIR PRACTICE
In the Church on Wednesday evenings at 8.00pm.
BADMINTON CLUB
The club will meet on Wednesday evenings at 9.30pm
PRAYER MEETING
The joint prayer meeting will be held on Friday 25th March at 7.00am in Mourne Presbyterian Church Halls.
THE GIRLS' BRIGADE
Tuesday  5.30-7.00pm     The Explorers
Tuesday 7.15 – 9.00pm    Juniors, Seniors and Brigaders
The GB Parents' Night will take place on Tuesday 15th March at 7.00pm.
THE BOYS' BRIGADE
Wednesday   6.00 – 7.15pm  Mourne Robins and Anchor Boys
Wednesday   7.30 – 9.00pm  Junior Section
Wednesday   7.30 – 9.30pm  Company Section.
Big Breakfast and Car Wash –  Saturday 5th March from 9.00am to 2.00pm. Donations towards BB Funds.
The Boys' Brigade Parents'Night will take place on Friday 18th March at 7.30pm.
SATURDAY NIGHT CLUB
Saturday evenings from  7.30 – 9.30 in the Youth Centre. No Club on Saturday 26th March,
THE CONGREGATIONAL COMMITTEE
There will be a meeting of the Church Committee on Tuesday 8th March at 8.00pm in the Church Office.
MOURNE P.C. WALKING CLUB
A programme giving full details of all walks is available in the porches, please take one and come along. Walks in March will take place on Monday 14th and Saturday 19th. Walks are suitable for all ages. Donations towards Livingstonia Partnership. Everyone welcome
THE LADIES SUPPORT GROUP
Meetings in March will be held each Wednesday in Kilkeel Church of Ireland Church Hall at 10.30am.
ENGLISH CLASSES
Friday evenings  at 7.00pm..
COMMUNITY OUTREACH TEAM
There will be a time of prayer for everyone involved in the Team or wishing to support the work by prayer in Kilkeel Presbyterian Church Hall on Saturday 12th March at 10.00am.
NEWRY PRESBYTERY RULING ELDERS' FELLOWSHIP
Monday 21st March in Sandy's Street, Newry, at 8.00pm. Campbell Mulvenny will be the guest speaker.
GRANPARENTING FOR  CHRIST
Dr and Mrs McGaughey will speak on Tuesday 12th April (8pm) to speak about the  role of grandparents  to encourage grandparents to realise the influence they can have and take opportunities to share their faith with their grandchildren. Meeting is in The Minor Hall.
FULL MEMBERS' CLASSES
Anyone who is saved and wishes to come to the Lord Table for the first time are welcome to attend classes in the Church Hall beginning on Saturday 2nd April at 7.00pm in The Minor Hall.
NEWRY PRESBYTERY MARCH RALLY
Tuesday 1st  March at 8.00pm in Downshire Road Presbyterian Church.
Speakers – Rev Stephen Lockington and Andrew Dawson
      28th FEBRUARY TO 6th MARCH – NEW ORANGE HALL
1st RATHFRILAND PRESBYTERIAN CHURCH MISSION
The Rev Bingham will be taking a mission in 1st Rathfriland Presbyterian Church from 13th to 20th March. Prayer cards available in the porches. Thank you for your prayers.
DUBLIN CHRISTIAN MISSION
Donation of clothing, blankets, duvets, sleeping bags gratefully received by Rosemary Edgar – 7 Melrose Park. Thank you for your support.