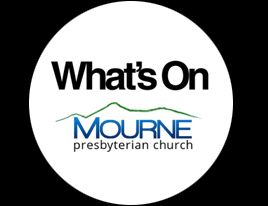 What's On At Mourne?
June 2017
SUNDAY SERVICES
4th         11.30am  Rev A.D. Mullan
7.00pm   Rev W.T. Bingham
11th     11.30am   Childrens' Day
6.30pm   Childrens' Day
18th     11.30am  Mr Bob McAllister: Summer Commissioning Service
7.00pm  Rev A.D. Mullan
25th      11.30am  Rev W.T. Bingham
3.30pm  Brackney Hall
7.00pm  Rev A.D. Mullan
8.00pm  Short meeting to arrange catering for CSSM Team
Prayer Meetings  5.45pm and 6.15pm.
Missionary Offering: last Sunday of the month
SUNDAY SCHOOL AND BIBLE CLASSES
Infant Sunday School – 10.30am –Infant Room
Junior Sunday School –  10.30am- Minor Hall
Senior Sunday School-  10.30am- Lecture Hall
Junior and Senior Bible Classes – 10.45am
Classes finish on 25th June.
BAPTISMS
Anyone wishing to have a child baptised speak to Rev Bingham.  The next baptisms will take place on Sunday 25th June at  11.30am
CAM – Coffee At Mourne
In the Youth centre before church on Sunday mornings.
COMMISSIONING SERVICE
There will be a commissioning service on Sunday 18th  June at 11.30am for everyone involved in outreach teams at home or overseas. Please fill in your details on the sheets provided in the vestibule
YOUTH FELLOWSHIP- Sunday Evenings 8.15pm
Junior YF  in The Minor Hall,
Young Adults in The Infant Room
Senior Youth Fellowship in The Youth Centre.
Youth Week – 3rd – 7th July
SENIOR SUNDAY SCHOOL TEACHERS
A planning meeting will be held on Wednesday 21st June at 8.30pm in the Minor Hall. Please plan to attend.
MID WEEK  MEETINGS
Thursdays @  8.00pm
Thursday 1st  June –       Robert and Sheila Cousins
Thursday 8th  June –       Bible Study and Prayer Meeting
Thursday 15th June –       Bible Study and Prayer Meeting
Thursday 22nd  June –     Bible Study and Prayer Meeting.
Thursday 29th  June –      Prayer Meeting
CONGREGATIONAL COMMITTEE
There will be a very short meeting on the church committee in the church office after mid week on Thursday 1st June at 9.15pm.
PRESBYTERIAN WOMEN
10th June, 10.00am –   Anyone willing to help with the decoration of the Church for Childrens Day on 11th June from 10.00am would be greatly appreciated.
RAINBOWS – MOTHER AND TODDLER GROUP
The last meeting for this session will be on Wednesday 14th June at 9.30am.
CHOIR PRACTICE
In the Church on Wednesday evenings at 8.00pm.
BADMINTON CLUB
The club will meet on Wednesday evenings at 9.30pm
MOURNE P.C. WALKING CLUB
A programme giving details of all the walks is available in the vestibule. Walks will take place every Monday evening and the away day is Saturday 17th June. Everyone welcome. Donations towards Livingstonia Partnership appreciated.
FAITH AND FOOTBALL
Monday 26th to Thursday 29th June from 7.00pm to 8.30pm.
For children already in P2-P7 and High School Age and above.
P2-P7 will meet in the newly developed grass area at the back of Mourne Presbyterian Chuch
High School age and over – will meet in Kilkeel High School.
Forms available from 1st June in the Faith Mission Bookshop.
Numbers are limited. Anyone wishing to help should contact Mrs Wendy Hanna on 07851871011 or by Facebook.
PRAYER MEETING
The joint prayer meeting will be held on Friday 30th June at 7.00am in Kilkeel Baptist Church.
SERVICE IN THE ORANGE HALL
Sunday 4th June at 8.30pm.
OMF PRAYER MEETING
Monday 26th June at 8.00pm in The Upper Room.
GARDEN PARTY
There will be a Garden Party at the home of Eric and Dorothy Niblock (Ballymageough) on Saturday 24th June from 10.30am. All proceeds in aid of Heartbeat NI and the care of children with Cancer. Teas, BBQ, Bouncy Castle etc. Everyone welcome.
FOR YOUR DIARY
YOUTH WEEK 2017 ARRANGEMENTS
Tuesday 27th June 7.30pm – Short Parent's meeting in Youth Centre
Sunday 2nd July  8.30pm –   Bring baggage to The Minor Hall
Monday 3rd July 5.00am –    Buses leave from the front of the church.
Saturday 8th July  1.30am –   Buses return to Kilkeel.
Sunday 9th July  7.00pm    –   Youth Service
Please contact William Annett for further details.
SERVICES AT CRANFIELD
Services at Cranfield commence at the Beachcomber on Sunday 16th July and continue until Sunday 27h  August. All meetings are at 8.30pm. Thanks to The Chestnutt Family for the use of the premises.
NEW BEGINNINGS AFRICAN CHILDRENS CHOIR
Sunday 27th August – Tour Begins – Mourne Presbyterian Church 11.30am
Saturday 30th September – Evening –  Final Concert –  Mourne Presbyterian Church
LADIES BIG BREAKFAST
Saturday 2nd September in the Church Hall.
HOSPITAL VISITS
List of patients in hospital are no longer available for the minister to see. Please inform the Rev Bingham of anyone in hospital who would appreciate a visit from the minister Tel 02841762264 or email: wbingham@presbyterianireland.org
FOR FURTHER DETAILS AND UPDATES PLEASE VISIT
www.mournepc.org