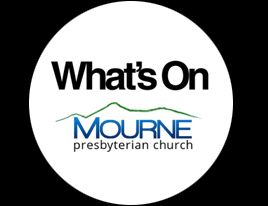 What's on at Mourne
January 2016
—
SUNDAY SERVICES
3rd January
11.30am  Rev W.T. Bingham
7.00pm   The Lord's Supper – Rev A.D. Mullan
10th January
11.30am   Rev A.D. Mullan
7.00pm   Rev W.T. Bingham
17th January
11.30am  Rev W.T. Bingham
7.00pm  Rev A.D. Mullan
24th January
11.30am  Rev A.D. Mullan
3.30pm  Brackney Hall
7.00pm  Rev W.T. Bingham
31st January
11.30am  Rev W.T. Bingham
7.00pm Fishermen's Service – Rev Trevor Boyd
     Prayer Meetings 6.15pm.
Missionary Offering: last Sunday of the month
SUNDAY SCHOOL AND BIBLE CLASSES
Infant Sunday School – 10.30am –Infant Room
Junior Sunday School –  10.30am- Minor Hall
Senior Sunday School-  10.30am- Lecture Hall
Junior and Senior Bible Classes – 10.45am
BAPTISMS
Anyone wishing to have a child baptised speak to Rev Bingham.  The next baptisms will take place on Sunday 14th February at  11.30am.
CAM – Coffee At Mourne
In the Youth centre before church on Sunday mornings.
SUNDAY KNIGHT KIDS
Sunday 24th January  at 7.15pm. Rota available in the porches.
YOUTH FELLOWSHIP- Sunday Evenings 8.15pm
Junior YF  in The Minor Hall,
Young Adults in The Infant Room
Senior Youth Fellowship in The Youth Centre.
MID WEEK  MEETINGS
Thursdays @  8.00pm
Thursday 7th        Bible Study and Prayer Meeting
Thursday 14th      Bible Study and Prayer Meeting
Thursday 21st      Belfast City Mission – Kilkeel Presbyterian Church
Thursday 28th      Genesis Matters
THE PRESBYTERIAN WOMEN'S GROUP – 8.00pm
4th January –   Emily and Mollie Stevenson
18th January –   Emma Chestnutt will speak on her service in Zambia.
THE MENS FELLOWSHIP
15th and 29th January in the Church Office.
Saturday 30th January 10.00am – Men's Breakfast-  Speaker is Noel Agnew.
THE GIRLS' BRIGADE
Tuesday  5.30-7.00pm     The Explorers
Tuesday 7.15 – 9.00pm    Juniors, Seniors and Brigaders
The members of the GB will be collecting for their annual GB week appeal from the 1st to 6th  February. Thank you for your support.
THE BOYS' BRIGADE
Wednesday   6.00 – 7.15pm  Mourne Robins and Anchor Boys
Wednesday   7.30 – 9.00pm  Junior Section
Wednesday   7.30 – 9.30pm  Company Section.
THE BOYS' BRIGADE FAMILY FUN NIGHT
Friday 5th  February from 7 -9 pm in the Church Halls.
SATURDAY NIGHT CLUB
Saturday evenings from  7.30 – 9.30 in the Youth Centre.
MOURNE YOUTH COUNCIL
Thursday 28th January at 9.35pm in The Upper Room.
RAINBOWS – MOTHER AND TODDLER GROUP
Each Wednesday from 9.30am – 11.30am in the Church Hall. For babies and young children up to 4 years old. All parents welcome.
CHOIR PRACTICE
In the Church on Wednesday evenings at 8.00pm.
BADMINTON CLUB
The club will meet on Wednesday evenings at 9.30pm
PRAYER MEETING
The joint prayer meeting will be held on Friday 29th January at 7.00am in Kilkeel Church of Ireland Church Halls.
MOURNE P.C. WALKING CLUB
A programme giving full details of all walks is available in the porches, please take one and come along. Walks in January will take place on Monday 11th and 25th  and Saturday 16th. Walks are suitable for all ages. Donations towards Livingstonia Partnership.
THE LADIES SUPPORT GROUP
Meetings in January will be held each Wednesday in Kilkeel Baptist Church Hall at 10.30am.
ENGLISH CLASSES
Friday evenings  at 7.00pm.
SERVICE IN THE ORANGE HALL
Next service is Sunday 3rd January at 8.30pm.
.
COMMUNITY OUTREACH TEAM
There will be a time of prayer for everyone involved in the Team or wishing to support the work by prayer in Kilkeel Presbyterian Church Hall on Saturday 9th January at 6.30pm.
OMF PRAYER MEETING
Monday 25th January at 8.00pm in The Upper Room.
MENS' BIG BREAKFAST
SATURDAY 30th JANUARY AT 10.00am
SPEAKER – NOEL AGNEW
In The Church Hall – All welcome!