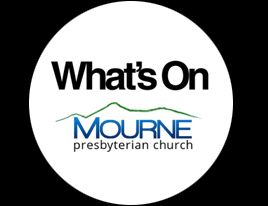 What's On At Mourne?
December 2016
SUNDAY SERVICES
4th       11.30am   Rev A.D. Mullan
3.30pm    Brackney Carol Service
7.00pm   Rev W.T. Bingham
11th     11.30am   Rev W.T. Bingham
7.00pm    Rev A.D. Mullan
18th      11.30am  Rev W.T. Bingham
7.00pm  Carol Service – Rev A.D. Mullan
8.15pm   Carols and Mince Pies with 180 Praise Band in the Church Hall.
25th       10.00am  Christmas Day Family Service
7.00pm  Rev W.T. Bingham
Prayer Meetings 6.15pm.
Missionary Offering: last Sunday of the month
SUNDAY SCHOOL AND BIBLE CLASSES
Infant Sunday School – 10.30am –Infant Room
Junior Sunday School –  10.30am- Minor Hall
Senior Sunday School-  10.30am- Lecture Hall
Junior and Senior Bible Classes – 10.45am
Please note there is no Sunday School on 25th December and 1st January.
BAPTISMS
Anyone wishing to have a child baptised in December should speak to Rev Bingham.  Baptism in December will take place on Sunday 18th at 11.30am. Baptisms in January will take place on Sunday 15th at 11.30am.
CAM – Coffee At Mourne
In the Youth centre before church on Sunday mornings except 25th December and 1st January.
SUNDAY KNIGHT KIDS
Sunday 11th  December at 7.15pm. Rota available in the porches.
YOUTH FELLOWSHIP- Sunday Evenings 8.15pm
Junior YF  in The Minor Hall,
Young Adults in The Infant Room
Senior Youth Fellowship in The Youth Centre.
YOUTH FELLOWSHIP CHRISTMAS CONCERT
There will be a Christmas concert in the church hall on Friday 16th December at 8.00pm to support next year's Youth Trip to England. Everyone welcome.
MID WEEK  MEETINGS
Thursdays @  8.00pm
Thursday 1st    December –  Bible Study and Prayer Meeting
Thursday  8th   December – Bible Study and Prayer Meeting
Thursday 15th  December –  Bible Study and Prayer Meeting
Thursday 22nd  December –  Congregational Meeting to appoint new elders.
Thursday 29th   December –  No Mid week.
PRESBYTERIAN WOMEN – 7.45pm
The Christmas Dinner will be held on Monday 12th December at 7.45pm.Anyone still wishing to go should pay for their meal in the Faith Mission Bookshop by Monday 5th December.
THE MENS FELLOWSHIP
Friday 9th   December in the Church Office at 8.00pm.
RAINBOWS – MOTHER AND TODDLER GROUP
Wednesday 7th  December from 9.30 – 11.30 in the Church Hall. For babies and young children up to 4 years old. Mums, Dads, Grandparents welcome. Rainbows will recommence after the Christmas holiday on Wednedsay 4th January 2017.
CHOIR PRACTICE
In the Church on Wednesday evenings at 8.00pm.
BADMINTON CLUB
The club will meet on Wednesday evenings at 9.30pm
PRAYER MEETING
The joint prayer meeting will be held on Friday 23rd  Decembert at 7.00am in Kilkeel Church of Ireland.
THE CONGREGATIONAL COMMITTEE
The Committee will meet in the church office on Tuesday 6th December at 8.00pm.
THE GIRLS' BRIGADE
Tuesday  5.30-7.00pm     The Explorers
Tuesday 7.15 – 9.00pm    Juniors, Seniors and Brigaders
No meetings on 20th and 27th  December.
THE BOYS' BRIGADE
Wednesday   6.00 – 7.15pm  Mourne Robins and Anchor Boys
Wednesday   7.30 – 9.00pm  Junior Section
Wednesday   7.30 – 9.30pm  Company Section.
No meetings on 21st and 28th  December
SATURDAY NIGHT CLUB
Saturday 3rd  December from  7.30 – 9.30 in the Youth Centre.
MOURNE P.C. WALKING CLUB
A programme giving full details of all walks is available in the porches, please take one and come along. There will be a slide show of the walks throughout the year on Monday 5th December at 7.00pm.
THE LADIES SUPPORT GROUP
Meetings for December will be held on Wednesday 7th and 14th  in Mourne Presbyterian Church Hall at 10.30am.
ENGLISH CLASSES
Friday 2nd and 9th December at 7.00pm.
BELFAST CITY MISSION BOXES
Donations and boxes should be returned this year to Miss Lorna McKee by Thursday 15th December please. Thank you for your support and generosity. The annual local rally will be held in Mourne  Presbyterian Church on Thursday 19th  January at 8.00pm.
STREET REACH
Friday 23rd December at 10.30pm.
MAGAZINES 2017
The Presbyterian Herald and ReachOut magazines are being combined. Those who have subscribed to Reach Out only will automatically receive The Herald unless notice is given to the contrary. Lists are available in the porches for anyone wishing to take out a new subscription. Mission Ireland Calendars are also available for purchase.
SERVICE IN THE ORANGE HALL
Next service is Sunday 4th  December at 8.30pm. This will be held in Kilkeel Orange Hall. Carol Service on Sunday 11th December at 3.00pm.
BOOKING THE MINI BUS
The Church Mini Bus can now be booked online for church organisations and groups. www.mournepc.org.
Southern Area Hospice Coffee Morning.
Saturday 10th December from 10:00am – 12:00 in the Church Hall.
NEW BEGINNINGS
There will be a Festive afternoon and evening of Coffee and Carols in the Charity Shop on Wednesday 21st December from 1-4pm and from 6-9pm. All proceeds to New Beginnings Charitable Trust. Everyone welcome.
    COMMUNITY OUTREACH TEAM.
The annual Carol Service will be held in Kity's Road Community Centre on Wednesday 21st December at 7.00pm
FINANCES 2016
Closing date for 2016 financial contributions will be Tuesday 27th December.
The Target of Honour for Missions Home and Abroad is approx. £38 per family. Please be as generous as you can.
Anyone requiring WFO envelopes for the first time in 2017 should order them a.s.a.p. using the sheets in the vestibules.
Extra envelopes for Missions Home & Abroad, Orphan Society and Livingstonia are available in the vestibules. Please remember to put your WFO number or name and address on them if you wish the donation to be recorded.
If you have any queries about finance please contact William Turner or Kay Sloan.
MOURNE CHRISTMAS ARRANGEMENTS
SUNDAY SCHOOL CHRISTMAS PARTIES
Saturday 10th December
2.30 – 4.00pm   The Beginners Sunday School
4.30 – 6.30pm   The Junior Sunday School
7.30 – 10.00pm  The Senior Sunday School
CHRISTMAS EVE
6.45pm – Carol Singing with Kilkeel Silver Band in Brooklands
7.30pm –  Carol Singing with Kilkeel Silver Band in Slieve Roe
CHRISTMAS EVE CAROL SERVICE
11.30pm to 12.05am – Mourne Presbyterian Church.
CHRISTMAS DAY SERVICES
10.00am –   Family service lasting about 45 minutes.
7.00pm   –   Evening Worship
HOSPITAL VISITS
Please note that lists of people in hospital are no longer produced for the minister to see. Please therefore contact Rev Bingham about a hospital call otherwise he will not be aware of the patient's admission. Tel 02841762264
FOR FURTHER DETAILS AND UPDATES PLEASE GO TO
www.mournepc.org