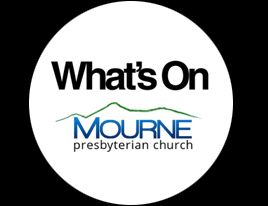 WHAT'S ON AT MOURNE?
AUGUST 2017
SUNDAY SERVICES
Sunday 6th Aug  11.30am  Rev A.D. Mullan
                           7.00pm    Rev A.D. Mullan
Sunday 13th Aug 11.30am  Rev W.T. Bingham
                            7.00pm    Rev A.D. Mullan
Sunday 20th  Aug  11.30am  Rev W.T. Bingham
                              7.00pm   Rev W.T. Bingham
Sunday 27th Aug 11.30am   Rev Dr D.J. McGaughey
(also – New Beginnings African Childrens Choir: 11.30am service)
                            7.00pm    Rev Dr. D.J. McGaughey
Prayer Meetings 6.15pm.
Missionary Offering: last Sunday of the month
SERVICES AT CRANFIELD
Services at Cranfield will be held at  the Beachcomber each Sunday in August. All meetings are at 8.30pm. Thanks to The Chestnutt Family for the use of the premises.
SUNDAY SCHOOL AND BIBLE CLASSES
No classes August. Classes recommence on Sunday 10th September at 10.30am and 10.45am.
BAPTISMS
Anyone considering baptism should speak to Rev Bingham. The next baptisms will take place on Sunday 20th  August at 11.30am.
MENS FELLOWSHIP
The Mens' Fellowship are organising a Dads, Lads and Granda's Team Challenge evening and BBQ in the Church Field on Fri. 11th August at 7.30pm.
MID WEEK PRAYER MEETING
The prayer meeting will continue each Thursday evening throughout August in The Minor Hall at 8.00pm.
Thursday 31st August Sara Stevenson will speak on her recent visit to Asia. Please come and hear of church life in one of the most persecuted regions of the world.
THE WALKING CLUB
A Programme giving full details of all walks in August is available in the porches.  Please take one and come along. Walks will take place each Monday evening and Saturday 12th August.  Any donations for Livingstonia Partnership in Malawi gratefully received.
NEWRY HOSPICE COFFEE MORNING
Saturday 19th August from 10.00am to 12noon in the Minor Hall.
THE HUB – (YOUNG PEOPLE HIGH SCHOOL AGE AND OVER)
5th of August going to Newcastle for Red Arrows.
19th of August Tag Rugby at Mourne Church Field
9th Sep BBQ & Deserts.
THE FISHERMEN'S MISSION COFFEE MORNING
Saturday 2nd September from 10.00am to 12 noon in the Minor Hall
LADIES BIG BREAKFAST
Saturday 9th September in the Church Hall. A hot breakfast will be served at 10.00am sharp. All ladies warmly invited to attend.
TEACHING WEEK
The combined churches teaching week will take place from the 4th to the 10th September. Meetings commence in Mourne on Monday 4th at 8.00pm.
PARENTING DETAILS ON FACEBOOK
To support the Parenting Programme from Rainbows, we will be posting regular articles on the Mourne Facebook page which may be of benefit to parents. Please ensure you like our Facebook page to receive notifications of Parenting news posts https://www.facebook.com/mournepc/  See our website for more details mournepc.org